Earlier this week we listed our recommendations in setting up Sakai tools that can be integrated with the Gradebook to give instructors the most flexibility with their grading. Following those recommendations, here is how you enter and modify grades for Assignments, Forums, Discussion and Private Messages, and Tests & Quizzes.
Add scores in Gradebook
When an entry is first created in the Gradebook for Assignments and Forums, you can enter scores for those items in the Gradebook, as well as within those tools. If scores are entered within the tool, those grades will still display in the Gradebook. The Grade Editor*** will notify you whether:
***These items must be graded from the tool listed and may not be graded from the gradebook.

(click images to enlarge)
If the Grade Editor gives no indication that a Gradebook item is coming from Assignments, Discussions, or Tests & Quizzes, simply:

1. Click on the item in the Title column to enter grades
2. Enter grades under Points/Percentages
3. Click Save Changes
Assignments
Grades can be entered within Assignments and within the Gradebook–as long as the entry was first created in the Gradebook. To enter grades within Assignments:
1. Locate Assignment and click on Grade or the number hyperlink under In / New
2. Locate student's submission and click Grade under their name
3. Enter score in the Grade field and any comments
4. Click Save and (Don't) Release to Student
NOTE: Instructors can also grade Assignments in Bulk.
Forums
Grades can be entered within Forums and the Gradebook.
1. Click on Grade next to the Forum/Topic you want to grade
2. Enter grades in the Forum/Topic column
NOTE: You can enter a grade to Apply Grade to all Ungraded
3. Click Submit Grades
You can also enter individual grades with grader comments for Forums.
1. Locate student's thread within Forum/Topic and click on Grade under student's name
3. Be sure the right Gradebook Item is selected
4. Enter grade and any comments
5. Click Submit Grade
Discussion and Private Messages
Grades must be entered within the Discussion and Private Messages tool. Only grades at the Forum level can be sent to the Gradebook.
1. Locate the discussion board and click Grade Forum under Scores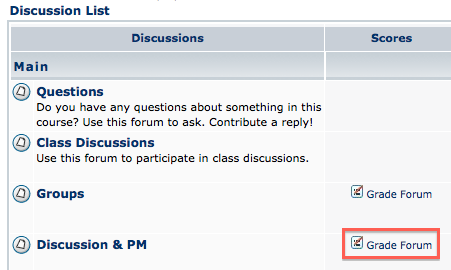 2. Enter scores under Grade Forum and any Grader Comments
NOTE: You can enter a score to Adjust the score of all users with posts
3. Check box under Released
4. Be sure that Send to Gradebook is checked
5. Click Update or save grades
Tests & Quizzes
1. Locate test and click the number hyperlink under Submitted or Action > Scores
2. Enter score adjustment
3. Click Update
Questions? Please contact the ITS Service Desk at 962-Help or submit a help ticket.