Our next topic in our new Sakai Gradebook Blog series will focus on how instructors can view the Gradebook as a specific student in their course. Often times, students will have questions about their grades, so it helps for the instructor to see what exactly the individual students are seeing in the Gradebook.
Viewing the Gradebook as a specific Student
Here are the steps for an instructor to view the Gradebook as a specific student. (Click on images to enlarge in a new window)
1. Select the Gradebook from your course menu on the left
2. Select All Grades from the top Gradebook menu
3. Click on the student's name whose Gradebook view you want to see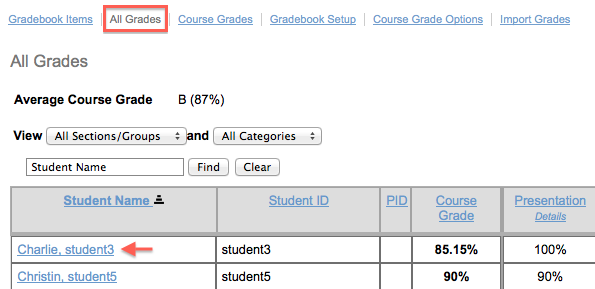 4. Click on the student's View of Grades link towards the top right


5. Now you will see the student's view of the Gradebook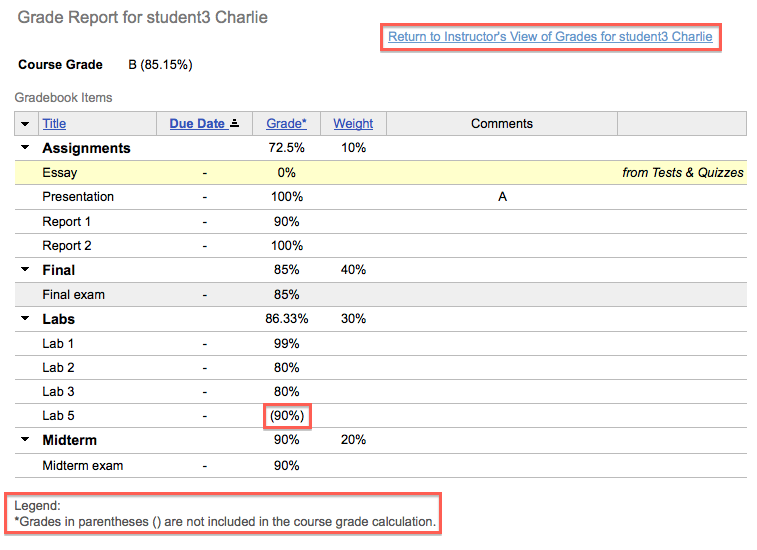 To return to your regular view, click on the Return to Instructor's View of Grades link in the top right.
NOTE: Grades listed in parentheses are available for students to see but are not included in final course grade calculations.
Displaying released Gradebook items to Students
Sometimes students may tell you that they can only see their course grade, but they also want to know the score they received on each individual item. If you look on the main Gradebook page (Gradebook Items), there will be a message indicating what students can and cannot see in the Gradebook. If a message is displayed similar to the one below, students can see their course grade but not their Gradebook item scores:
To display released Gradebook item scores:
1. Select Gradebook Setup from the top menu
2. Place a check in the box next to "Display released Gradebook Items to students"
3. Click Save Changes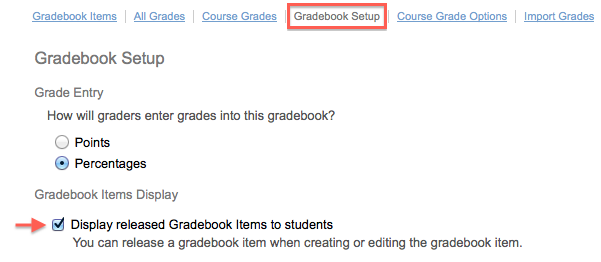 Here is a video tutorial explaining all the steps listed above:
If you have any questions, please contact the ITS Service Desk at 962-HELP or submit a help request.